Workshop on Technology Management (07 July, 2023)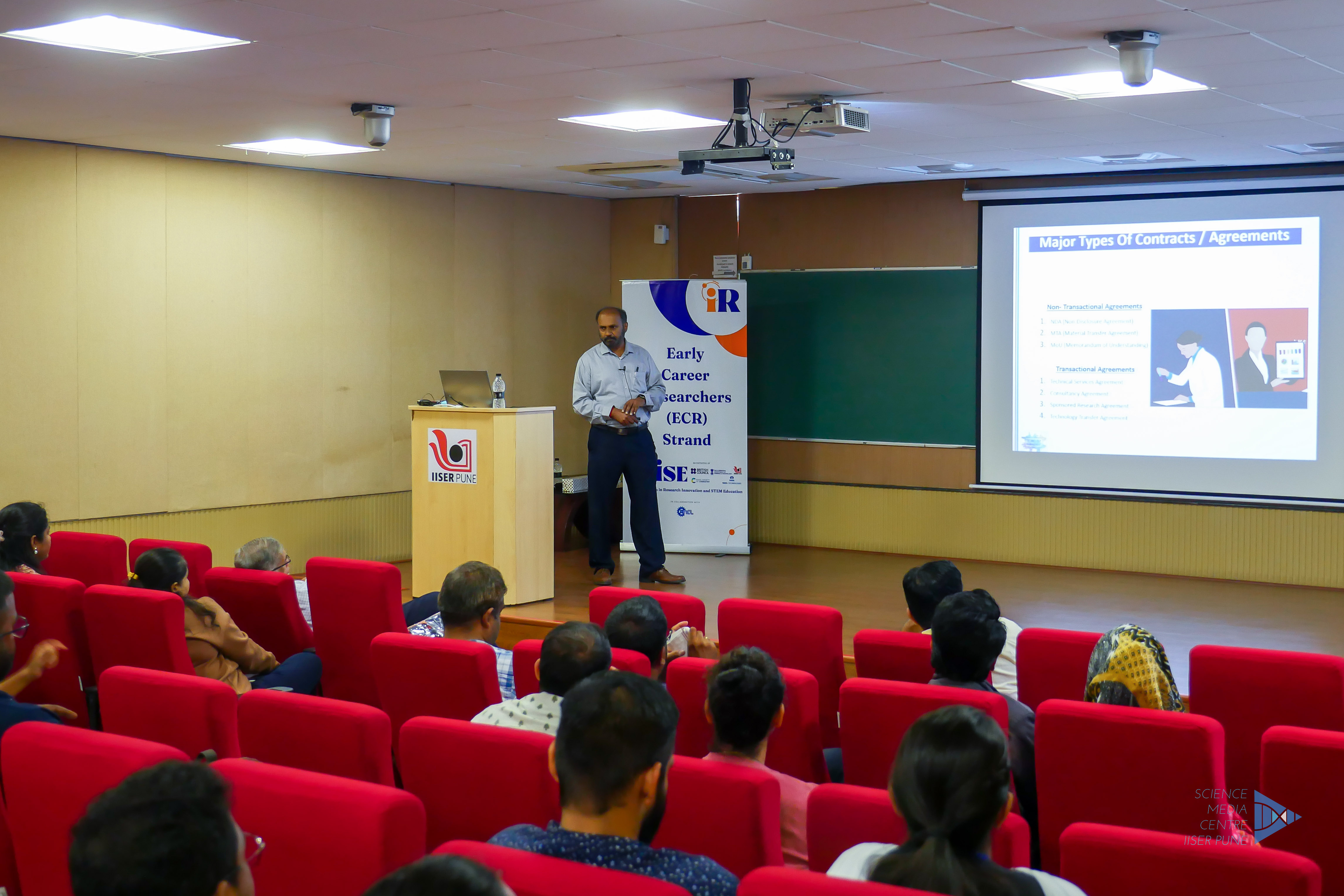 A one-day workshop on Technology Management was conducted on 07th July 2023 at IISER, Pune under Early Career Researchers' Strand in iRISE. There were 46 Ph.D. Scholars who participated in the workshop out of which 24 female participants were present and 22 were male.
Speakers for the workshop were:
Dr. Parag Kinge: Wide-ranging experience in R&D, intellectual property and technology transfer management. Has Substantive knowledge of framing, drafting, prosecution, litigation and management of patents and trademark applications, commercial contracts, and regulatory matters in India and several foreign jurisdictions. Ability to strategize and tackle complex IP, contractual and regulatory problems in high technology areas. About 18 years of experience in pharma, biotech, engineering industry in reputed organizations having handled high-value projects and established management systems. Experience of US Federal District Court cases and arbitration before LCIA.
Dr M.G Kulkarni: IP consultant, Dr. Kulkarni's area of interest is in controlled release delivery systems, molecularly imprinted polymers, Protein Carbohydrate interactions, Supramolecular Chemistry of Polymers, and R&D Management. He has been awarded Young Associateship of the Indian Academy of Sciences, Bangalore (1984), Fellow of the Maharashtra Academy of Sciences (1990), Fellow of the Indian Academy of Sciences, Bangalore (1996), Indian Society for Plastics Pune, award for research in Polymers (1996), IPI-UDCT Diamond Jubilee Visiting Professor in Polymer Processing (1997), KG Naik Gold medal 1999.
Mr. G.Prabhakaran: Technology Management Professional with more than 3 decades of experience in Industrial Research Management, Contract Management with deal structuring &negotiations, Customer led Innovation, Knowledge Management; Building strategic alliances & partnerships; competitive Intelligence; Implementing newer business models & maintaining Industrial Innovation Strategy; commercial Utilization of research; support services for strengthening technology-based enterprises; International cooperation through strategic alliances.
Dr. Nitin Tewari: Ph.D. (Biomed Research), WoS-C fellow of DST, Patent Agent. She is working as a Scientist, at IP Group / NCL Innovations. She has been a Chevening Research, Science, and Innovation Leadership Fellow (CRISP) at the University of Oxford and Khorana Tech Transfer Fellow at the University of Wisconsin. Patent drafting & prosecution, IP portfolio planning, management and value addition. She advises on IP-related issues for project agreements and licensing/ PPP negotiations. She also provides Research, scholarly opinions, and policy prescriptions relating to IP law, innovation and technology policy.