Workshop on Communicating Science with Policymakers (07 August, 2023)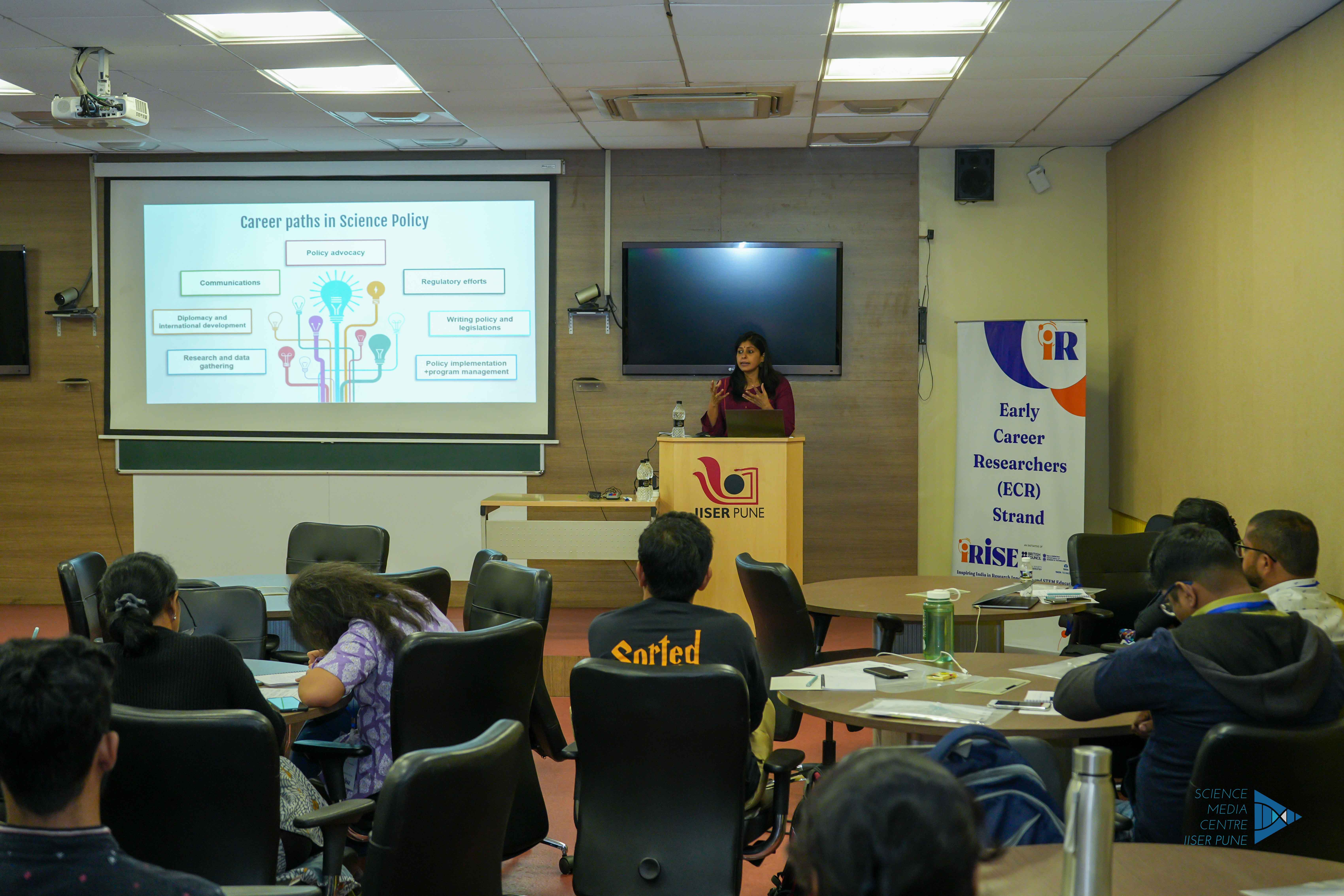 A one-day workshop for Early Career Researchers on Communicating Science with Policymakers was conducted on 7th August, 2023. There were 31 Ph.D. Scholars who participated in the workshop out of which 15 female participants were present and 16 were male.
Speakers for the workshop were:
Dr. Siuli Mitra: Dr. Mitra has been a science communication practitioner for a little more than five years and is currently a consultant with Vellore's Christian Medical College. She likes to write stories about scientists and science organizations in India and is studying the history of medicine and medical institutions in pre- and postindependent India. In her previous roles as a communication professional, she was responsible for developing, planning, and implementing communications and branding strategies for various health, science, and technology initiatives supported by the Government of India. Siuli also trained in medical anthropology at Delhi University.
Dr. Nidhi Thakur: Dr. Thakur is a science policy professional, with experience in R&D, science administration, and STI policy. She is currently working with the Office of the Principal Scientific Adviser to the Govt. of India. In her present role, she is contributing to set-up the One Health Mission which is a cross-ministerial effort of 12 central govt ministries/departments. She had previously worked at IIT- Delhi as a Science, technology, and innovation policy researcher. Nidhi holds a Ph.D. from CSIR-NBRI, in Molecular biology and genetic engineering. Post her Ph.D. she worked at the University of Hyderabad, as a SERB-NPDF fellow after which she transitioned to science policy and administration.
Suchitha Champak: Suchitha Champak founded SciRio to change how society views science. They help scientists, academic institutes, and enterprises share their advances in science creatively. At SciRio, she combines capacity building, collaborative projects, and unexplored markets to engage the public effectively. After working at the Indian Institute of Science and Centre for Human Genetics, she left the lab to prove that science is for everyone. She envisions a future where science and society co-evolve to empower everyone. She is a TEDx speaker, and news outlets like The Assam Tribune and BioPatrika have profiled her as a scientist-turned-entrepreneur. She also helped create proactive policies for science communication in the newest version of India's STI Policy.